We take pride in the personal service and quality wedding jewelry and other wedding products we offer. This page has actual e-mail excerpts, letters, pictures and cards from brides who have written to me about their wedding jewelry. We have letters from brides, mothers, grooms, and more...

What a beautiful bride and a handsome groom! Jen is wearing our triple-strand pearl choker with leverback pearl earrings. Her bridesmaids wore the woven double-strand necklaces in black pearls to match their black gowns - Beautiful!
"Thank you for the call yesterday! It was great to talk to you and learn more about you. I am going to pass everyone I know onto your site, you have been so helpful and thorough in finding exactly the right set for us, thank you, thank you, thank you!" J. Gold, Denver, CO
"Your bracelets were a complete hit - all the girls loved them! The week before, at a catholic engaged encounter weekend, I gave your website name to a lot of girls interested in bridesmaids gifts. You really have an attractive, affordable product. Thanks for helping me out on my special day!" A. Illner, New York, NY
(We made custom pearl bracelets for her bridesmaids.)

Julie and her bridesmaids are wearing our Swarovski™ crystal station jewelry sets.
"You make it so easy for a bride!" J. Oakley, Raleigh, NC


We made custom jewelry pieces for Melanie, her bridesmaids, the mothers, and some other friends/family helping with the wedding. I love the sunglasses picture!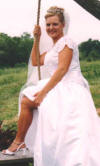 Mel is wearing our pearl anklet for good luck on her wedding day!
"Thank you so much!! I absolutely LOVE everything... I really do appreciate everything... The price is wonderful. I was expecting it to be much more expensive. I really cannot thank you enough."
A later email: "WOW Rhonda! That looks great... I have had a chance to try my jewelry on and it lays perfect. I love it!!! I try it on practically everyday. I just cannot stop looking at it. Thanks for all of your help in making my wedding very unique and special!!!"
A later email: "Everyone absolutely went nuts over the jewelry. They all LOVE it!!!" M. Colwell, Greensboro, NC
"Hi Rhonda, Just wanted to let you know that the Necklaces arrived on Monday, and they look great! I think they will look very cute on the girls for the Ceremony. Thanks for all of you help!" S. Ballard - this e-mail is actually from the Groom!
(We made flowergirl jewelry for his nieces for their wedding.)
"Thanks for all of your help....you are great. I received the jewelry last night. I love it. You did a great job. It will look great with the dresses." J. Jorgensen, San Jose, CA
"I'm relieved to see that excellent customer service still exists."
A later email: "I got them. I love them. What more can I say, except thank you very much" L. Poole, Bossier City, LA
(She ordered bridesmaid's jewelry and engraved groomsmen cufflinks for her wedding party gifts.)
"I absolutely love it!!! It looks fabulous!!...My girls are going to look amazing! Thanks to you." L. Hernandez, New York, NY
(We made custom jewelry pieces for the bride, the mothers, the bridesmaids and the flowergirls.)

Read an actual letter a wonderful and thoughtful bride in Baltimore, MD took the time to write me. Her name is Dianne and she is pictured below...

Here is a picture of Dianne and Mike with the Minister who married them. They had a private ceremony at home in their beautiful yard.
Dianne is wearing our 15-strand floating illusion necklace in peach/pink pearls.
"Rhonda, I just wanted to let you know I received the pearl-drop jewelry in the mail yesterday. Absolutely beautiful! Thanks again." J. Ward, Springfield, VA
This email is actually from a bride's maid of honor - she wanted us to make her a custom 14k gold pearl drop necklace and earrings set.
"Just want you to know how grateful I am to have found your website. You are a delightful woman to speak with and can't wait to see your creations."
A later email: "It's beautiful!! You are so talented, Rhonda and I will be referring friends to you....Gosh Rhonda, the necklace took my breath away. It's absolutely stunning! Everything is just perfect. The stones match perfectly and your workmanship is superb!! Everyone said the jewelry was beautiful and perfectly complimented my gown. So, a big thank you to you again. I felt and looked like what my friends said, 'a princess.'" P. Fontino, San Francisco, CA
We made Paula a custom woven pearl and crystal choker, bracelet and earrings set to match her wedding gown.
"You are so good. Thanks very much for your personal touch. I'm sure I will be the "bell of the ball." Thanks again." J. Dysart, Salisbury, MD
This email is from a groom's mother - we made her a custom crystal 3-piece set to wear to her son's wedding.

Vickie is wearing our 15-strand pearl illusion necklace and earrings.
"I keep trying on my jewelry - I can't help it, it is so beautiful" V. DelGaizo, Winston-Salem, NC
"Rhonda, I just received the shipment this morning. Thanks for your speedy delivery. They were perfect!" E. Byrd, Seattle, WA
"Wow! That was fast! Thanks again for all your help! I'm sure my bridesmaids are going to love their earrings...Thanks again! It's been a very pleasurable experience and all the best to you!"
A later email: "I received the bracelet yesterday. It's perfect and goes beautifully with my wedding gown. Thanks again for everything! I really appreciate all you've done to help make my wedding day even more memorable. :)" K. Hastings, Middletown, CT
"Dear Rhonda, I received my jewelry yesterday...The jewelry is absolutely gorgeous and I can't thank you enough. I am so glad that I found your site and didn't settle for 2nd best by getting someone here to do it. Thank you from the bottom for my heart. I will recommend you to everyone I know getting married. You are a star. With love and thanks, Carrie" C. Whiteley, Kent, Great Britain
(We made a custom pearl and crystal necklace and bracelet set for Carrie)
Next Page...