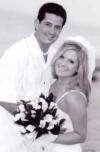 Ashley had a beautiful beach wedding. She is wearing a white organza necklace. Click Here to see the anklet she is talking about in her letter. I also made crystal anklets and earrings for her girls. Isn't Ashley just gorgeous?!?!
This excerpt is from a hand-written thank you note from a bride: "Dear Rhonda, I wanted to send you this long overdue note to say thanks for everything you did for my wedding. Ariel and Ingrid loved their jewelry and it made their outfits complete!! I loved, loved, loved all my stuff too - my favorite is the pink and clear anklet, it makes me feel so happy and girly when I wear it! I just want you to know how much I appreciate all you did and more than anything, it has been so nice getting to know you. It makes me smile just to hear your voice!! Thanks for everything, Rhonda, you are truly wonderful." A. Reams, Greensboro, NC
My first email from Karina after she received her bridal jewelry set: "OH MY GOSH!!! It is SOOOO beautiful!!! I mean - I was expecting pretty but this is... WONDERFUL! I am SO excited! I definitely found someone I can trust to make jewelry for me for future things. Awesome, Rhonda! I will refer everyone I know to you now. I can just imagine the compliments and "Where'd you get that?" at the wedding! Again, thanks."
A later email from Karina after she received her bridesmaid's jewelry order: "Hi Rhonda, I LOVE THEM ALL!!!! They are so awesome! And so I tried them all on at once... and they are going to be SOOO beautiful with my dress! The earrings are the PERFECT length! Am I generating too many exclamation points?!!! :) Seriously - got them today and I am SO happy with your products. Thank you thank you thank you. And I didn't even know they'd come in those cool oriental purses - and the cute little bags for the flowergirls are awesome! The packaging was an added touch that's VERY pretty! My girls (and women, I should say) are going to absolutely love them! Just wanted to let you know that I received them and that I LOVE them. I will be sending pictures... MAHALO! It was definitely a PLEASURE doing business with you and I hope that I can steer more business your way when people see your wonderful jewelry! Aloha,Rina"
A later email from Karina after she returned home from her honeymoon: "We had a great time!! And my bridesmaids LOVED their jewelry! THANKS!"






Karina and Steven were married at the Hale Koa Hotel in Honolulu, HI
We made a custom 5-strand woven pearl set for Karina, Siam crystal sets for her bridesmaids, and Siam crystal/pearl sets for her flowergirls.
Here is another email Karina sent to me after she returned from her honeymoon. She wants everyone to know how she feels about me. She is one of my all-time favorite brides I have worked with and I hope we stay in touch with each other for many years to come...
"Being the semi-perfectionist that I am, I wanted to get accessories for
me, my bridesmaids, and my flowergirls that was "new and different". I
started looking early enough (I thought), at retail stores, craft fairs,
and even trade shows, but nothing struck me as "THE" right pieces. To
top it off, I did find a style of choker that I wanted for myself... but
since I am "big boned", none of them fit my neck without looking like it
wasn't made for me. So LATE in the game, I decided to look online. Lo
and behold I found Rhonda's CUSTOM MADE JEWELRY site and was wondering
how this process would work. So I emailed her and, to make a long story
short, I ended up buying ALL my accessories from Rhonda and I (and the
rest of my bridal party) was ABSOLUTELY HAPPY about what I received in
return! As you can see from the pictures, the jewelry Rhonda made is
BEAUTIFUL! Not only were the pieces wonderfully made, but by dealings
with her were easy, professional, creative, and inspiring! Working with
her didn't stress me out like one would think as I tried to get pieces
made for 5 bridesmaids, 2 flowergirls, and myself - necklaces,
bracelets, AND earrings! - in about a month! And the kicker is that
she's in North Carolina and I'm in Hawai`i, 6 time zones away! Another
plus was that I didn't even know what I wanted for my bridesmaids so she
made suggestions, I trusted her judgment and was SO GLAD I did!

Bottom line here is that I had one of the best "online shopping
experiences" with Rhonda. She was helpful, attentive, and it seemed
like I was the only customer she had because of the attention I
received. Her jewelry is WELL MADE, BEAUTIFUL, and best of all,
INEXPENSIVE (compared to anywhere else)! I plan to send anyone who
wants custom made jewelry to Rhonda for best results. Thanks and MAHALO
NUI LOA from the bottom of my heart, Rhonda - YOU DA BEST!

Aloha pumehana,
Karina Noelani Tam Orot
Honolulu, Hawai`i""
"Your pearls went wonderfully with my gown...Thanks again..." T. Theil, New Port Richey, FL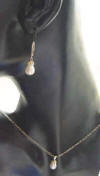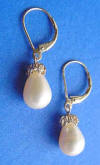 We made a special order request 14k gold single pearl drop necklace and leverback earrings for Tracy's wedding day.
"Dear Rhonda- Iím so sorry Iíve taken so long to write to you, but as you can imagine, things are a little hectic here for me right now. I received the box with all my bridesmaids necklaces, earrings, the flower girls necklaces and MY necklace last week. Thank you, thank you, thank you, thank you!!!! Everything looks SO beautiful and just how I imagined it! My necklace fits PERFECTLY! No rigging necessary, it stays right in place. I canít wait for Saturday and also to send you pictures so you can see how wonderful and perfect your work is for my wedding. I truly cannot thank you enough, itís been such a pleasure to work with you and Iíll certainly recommend you to all my friends and family for future jewelry needs! I will be in touch after we return from our honeymoon in May!!! Thanks again, Sincerely, Kelly Ryan" K. Ryan, New Milford, CT
A later email from Kelly: "Hi Rhonda! I just wanted to send you a quick note to tell you how great our wedding was and how perfect all the jewelry was! First, the bridesmaids and flower girls LOVED their necklaces and earrings, and they were absolutely perfect. They were so unique and delicate, they went perfectly with the dresses, and everyone really appreciated that they were hand and custom made for us!!! MY jewelry was exquisite! It was perfect with my dress, fit my neck and stayed perfectly (covering my scar which Iím so self-conscious about), and again was unique and elegant. The bracelet was perfect too; so many people commented and asked me about my jewelry, of course I gave you all the kudos I could muster! I have attached an early photo that was sent to me so that you could see how beautiful the necklace was with my entire ensemble. Once I get my formal photos, Iíll send you something that shows everything better, including the girls things. This photo really shows you how much fun we were having, Clint LOVED everything, so his face in the photo is not a reflection of his feelings about my jewelry, I assure you!!! Well, again thank you so much for everything, I had the best experience working with you, especially considering I found you online and so many miles away from me, I was leery at first if this long distance transaction would work, but it was easy and seamless. I will treasure my wedding jewelry forever and I really appreciate the work you did to make my vision for myself come true!!! Very truly and sincerely yours, Kelly Murphy"

I love the looks on Kelly and Clint's faces - they look like they are having so much fun! We made a custom 5-strand woven pearl necklace, bracelet and earrings set for Kelly's wedding day.
"Rhonda, WOW!! They look incredible. I'm soooo pleased...Thank you very much...The girls are going to be so ecstatic to have such pretty pearl jewelry of their own. I can envision them walking around so proud! Thanks for the silk pouches too--what a lovely touch. Thanks again. I couldn't be more pleased with how they turned out." S. Westcott, San Jose, CA
We made child-sized pearl necklaces for her 6 flowergirls.
Here is a later email Stephanie sent me (with pictures!):
"I know I'm very late at getting you some pictures, but I did finally figure out my scanner and figured better late than never! Hopefully the quality is ok. Unfortunately, there isn't one picture of all 6 girls, but I am sending several of the different girls and you can certainly see how adorable they all were. They all just LOVED their necklaces and thought they were so special. My nieces want to wear them all the time, but my sister has to tell them only for special occasions and church!... Thank you again for the beautiful work. The girls will treasure them for years to come... Thanks again! Stephanie"




Some pictures of her adorable flowergirls wearing our flowergirl classic pearl necklaces in her wedding.
"Hello Rhonda, I just got back from our wedding and honeymoon and everything was perfect. My maid of honor loved her earrings! I want to thank you again for your excellent service and attention to my order. I truly appreciate your personal attention and guarantee of your product. I will definitely shop from your site again when looking for jewelry. Thanks again. Katherine" K. Alexander, Portsmouth, NH
"Just wanted to let you know that the necklaces arrived the other day and my daughter is absolutely thrilled. Thanks for all your help in making her wedding day very special. Linda" L. Iest, Mission Viejo, CA
Linda is the mother of the bride. We made organza necklaces for her daughter's bridesmaids.
"I received my order today and the necklaces are absolutely stunning!! What a wonderful job you have done putting it all together. Thank you so much Rhonda. It's been a pleasure doing business with you company. I look forward to ordering from you again. Kind Regards, Jackie" J. Cooke, Columbia, MD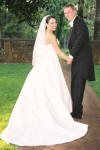 Alison ordered Illusion Pearl Necklaces and Pearl Stud Earrings for herself and her bridesmaids. She and Greg placed several more orders with me for mother's gifts (classic black pearl bracelets and Leverback earrings sets) and sister's gifts. What a great couple to work with!
"Rhonda, I just wanted to write and thank you so much for all of your help with the jewelry for the wedding. All of my bridesmaids were so excited to get their necklaces and earrings, and my mother-in-law loved her bracelet and earrings so much she e-mailed me as soon as she got home to find out how to find a matching necklace (which is perfect because now we know what to get her for Christmas, and she notoriously hard to shop for!!)... ...With all of the festivities, I kept noticing how beautiful my closest friends, plus my sister and my sister-in-law looked, and a huge piece of that was their jewelry. They looked classy and elegant, and they were happy to have pieces that they can keep and wear when other big events in their lives occur. I also loved my jewelry, and took it with me on our honeymoon, and wore it several times during the cruise... ...Always, Alison" A. McKeeman, Sacramento, CA
"Rhonda, The flowergirl sets are BEAUTIFUL. My 3 year old pranced around with hers on feeling like such a princess when we got them. You do great work. Thanks again for everything. Sheryl" S. Koziarski, Ponte Vedra Beach, FL
A later email from Sheryl: "Dear Rhonda: I wanted to send you some pictures of the flower girls in my sister's wedding wearing your beautiful jewelry. The felt so glamorous with the 'jewels'...Thanks again for the beautiful jewelry."

We made pearl and crystal necklace & bracelet sets for Sheryl's little girls to match the dresses they were going to wear in a wedding. I love the little Ring Bearer looking at her bracelet in the picture!
"Rhonda, I received the earrings in the mail on Friday and I think they look great. I held them up against the dresses and I think everything will tie in together nicely. The violet beads matched perfectly, I couldn't have been more pleased. Thank you so much for working with me on this. Your turn around time was FAST!! I'll be sure to recommend your site to my friends should they need any custom jewelry made for their special occasion. Thanks again, Mallory" M. Benz, Charlotte, NC
We made custom crystal earrings for Mallory's bridesmaids to match the two colors of their gowns.