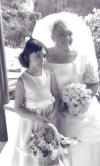 We made a double-strand illusion necklace in pearls and pink crystals for Kimberly to match her pink wedding bouquet.
"Hi Rhonda How are you? Well, the BIG DAY has come and gone....back on September 6th :) We lucked out and one of the most beautiful days of the year for our outdoor wedding. I promise to scan some better photos showing your beautiful necklace and earrings; but for now, these photos show off your work the best :) Everyone loved my jewelry, and kept asking where I purchased it. I am now in the process of passing along your information to friends and family and hopefully I will bring some more business your way. Thank you so much for making my special day, even more special! You are amazingly talented and a pleasure to work with. Take care, and I will keep in touch. Kimberly" K. Price, New York, NY
"Rec'd the "sample" set of the jewelry. It's great! The earrings are just perfect and the shadow beads on the organza offset the embroidery on the bodice of their gowns like you wouldn't believe!"
A later email from Jennifer (after her wedding): "They loved the necklaces and earrings. What a great gift!...Oh, and I have worn my necklace a number of times since the wedding. It looks great with all of my suits and dressy outfits." J. Aquilina, Greensboro, NC





We made a 5-strand Pearl and Crystal Illusion Necklace for Jen. We matched the bridesmaids' wine gown color (and silver gown embroidery) with Organza and Crystal Necklace and Earring Sets.
"Thank you so much Rhonda!!! I absolutely love the jewelry, I received it yesterday! I was surprised how fast I got it, I am so excited and can't wait to give it to her. It was even more sparkly and beautiful than I had imagined. Thank you for making this so special for her. Bless you for this beautiful Talent!!!----Mandy from Georgia" M. Gray, Snellville, GA
We made a 3-piece pearl and crystal child's jewelry set for Mandy's Junior Bridesmaid.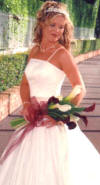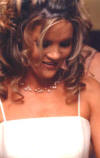 We made a 3-piece (Necklace, Bracelet and Stud Earrings) 5-Strand Pearl Illusion Set for Mandy. She looks great - even in high winds!
"Hi Rhonda, Well I can't tell you how many compliments I received on your jewelry everyone thought it was beautiful. The day wasn't without it's problems but we are now married and the minor mishaps are trivial at this point. We were in Jamaica the following week, again, not without problems but we had a wonderful time with one another. I hope that us making it through the stress of the last two months is indicative of the success we will have with our marriage...You will no doubt get to see one of the problems that arose which was what seemed like 200 mile an hour winds but again, we're married and that's all that matters right? I want to thank you again and wish you lots of luck with future business. I will be sure and recommend you to everyone. Sincerely, Mandy" M. Wetsel, Pequesta, FL

We made Organza and Crystal necklace and earrings sets for Pam's bridesmaids to match their gown colors.
"Hi Rhonda!! I'm married!! YAY! I can't thank you enough for the gorgeous jewelry you did for my wedding. The girls loved their sets and they were just lovely with the dresses. My jewelry looked amazing and we all got many compliments. Your professionalism is bar none and your work is something to be proud of...Thanks again Rhonda, have a great summer! Pam" P. Skane, Beverly, MA
"Dear Rhonda, Just a note to express appreciation and thanks for all of your hard work. My set is truly beautiful. I will be in contact with you again in the future for other colors. Can't wait to show the girls at work. The earring backs are FABULOUS. Two thumbs up Rhonda!! Aloha, Denise" D. Sefried, Kailua Kona, HI
We made a custom South Sea Shell Pearl Necklace and Earrings Set for Denise.

Nicole had a tropical dream destination wedding in Punta Cana, Dominican Republic (lucky girl - isn't she a beautiful tropical bride?!). We made her an Organza Pearl and Crystal Multi-Strand Necklace to wear on her very special wedding day.
"Everyone loved my necklace!!! I passed your name around!" N. Fincham, Parkville, MD
"Rhonda, I received the cuff links today, and was very impressed with them. Thank you very much for having them completed expeditiously. I will definitely recommend your company to my friends/relatives. Thanks again, Patrick Major" P. Major, South Hadley, MA
Patrick is a groom who ordered sterling silver engraved cufflinks for his groomsmen.

Here is a picture of Marcie with her nephews at her beautiful Caribbean destination beach wedding. She is wearing a 15-strand pearl illusion necklace and earrings set.
Here is an email from Marcie when she received her necklace: "Good morning Rhonda-They are absolutely perfect!!!! I can't wait to get them and put them on! It is so nice to find great people to work with for your big day...Thank you so much! Marcie"
Here is a later email from Marcie after her wedding: "Hello Rhonda-I don't have the professional pictures back yet but here is a good one that you can see the necklace, earrings and hair pins. Thanks so much for helping make it a wonderful day! ...I received so many complements on the necklace. Everyone loved it! Marcie" M. Masey, Carleton, MI
Here is what Richele wrote to me when she received her package of jewelry: "Rhonda, The jewelry arrived today - it's all beautiful! Mine is absolutely perfect - exactly like I pictured in my head! And it looks gorgeous on! I know the girls will love theirs, too. Thanks again!"
Here is a later email from Richele when she shared her wedding pictures with me: "Hello Rhonda! I tried to go through and find some photos that showed off your jewelry. Every piece you created was just perfect for our wedding. My jewelry was soft and perfect for my sparkly dress - just as I wanted. The jewelry for the girls was more dramatic and really added pizzazz to their simple dresses - again, just as I wanted. Thanks again for all of your help and your beautiful work! Richele" R. Yacopino, Washington, DC
Richele wore a strapless, full tulle wedding gown with tiny pearl beadwork - she wanted double-strand pearl illusion jewelry (necklace, bracelet and earrings) for herself. Her bridesmaids wore silver gowns with pink accents - she wanted organza necklaces, earrings and 5-strand pearl illusion bracelets for them. Her junior bridesmaids wore smaller versions of the bridesmaid's gowns - pink with silver accents - she wanted organza necklaces and earrings for them. Her flowergirls wore white gowns with pink rosebuds - she wanted organza bracelets for them, too.
Here are some of the pictures she sent me...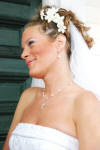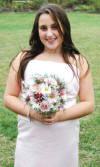 "Rhonda, Thank you so much. I absolutely love the calla lily sets. They are beautiful. I know that they are going to look wonderful on my bridesmaids. I will definitely send you pictures. Thank you, Michelle" M. Browell, Carmichaels, PA
"Rhonda, The jewelry arrived yesterday and I was so thrilled!!! They look even more gorgeous in person than they do on the screen. Also, the little gift bags you put them in are such an adorable touch - and you saved me from having to wrap them (God bless you!). Thanks again for all your wonderful work. I know they will absolutely love them, and I'll have to make one of my two sisters let me borrow the set after the wedding! Have a wonderful week! ~Ashley Wilkinson" A. Wilkinson, Lexington KY
We made illusion pearl and crystal jewelry sets for Ashley and her bridesmaids.

Here is a later email from Ashley: "Hi Rhonda, My name is Ashley Hays (last name used to be Wilkinson) and I got married last November. You made me the most beautiful jewelry sets to give to my bridesmaids...everyone just loved them! When I was choosing which style of necklace would look best, I looked at pictures of past weddings and they were an enormous help. So, I wanted to send you a picture from my wedding so you can see how great the necklaces looked and to use on your website if you wanted to! I would have sent this much sooner, but none of my photographer's pictures showed off the jewelry very well. Someone just sent me this picture today and I think you can really see the necklaces in this one. Thanks again so much for helping to make my wedding day perfect, and maybe this picture will help sell some more of those floating-crystal beauties!! Have a great day! Ashley Hays"