"It looks beautiful Rhonda! We will be watching for it to arrive. Yes, we have received our other order and we love it. Thank you, Rhonda! It has been a pleasure doing business with you! Kind regards, Tammy" T. Gibbs (mother of the bride), Cypress, TX
We made custom request classic pearl necklaces and earrings for Jessica's bridesmaids - the necklaces were made with special request pearl toggle clasps. We also made custom jewelry for Jessica (the bride) and Tammy (the mother of the bride). What a gorgeous bride and bridal party!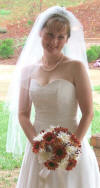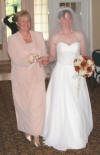 We had so much fun with Kathleen's wedding! Linda, her mother, and I became instant friends! Linda made a towel cake centerpiece for Kathleen's bridal shower with cake charms tucked all around as gifts for Kathleen and her bridesmaids. Kathleen had a wedding reception charm cake.
Here is a note from Linda after she received her cake charms: "Good afternoon Rhonda, Thank you very much!!! I just received the charms and they are BEAUTIFUL!!!! Kathleen has selected some jewelry she is interested in and also I told her to pick out which charms she wants to have for her wedding cake...I can't show her the ones that you have send me. I am just thrilled with these charms Rhonda...Thanks you so much again, Linda."
Kathleen and Linda are both wearing traditional classic pearl necklaces. Her Maid of Honor is wearing a double-strand pearl illusion necklace. Her bridesmaid is wearing a drops of pearls necklace.
Here is a note from Kathleen after she received her jewelry: "Hi Rhonda, I received the jewelry and they are absolutely beautiful!...Kathleen"

"Rhonda, The girls loved their jewelry (I loved mine too) Here's a pic I thought you might like to see. Now that the dust has settled I have time to send! I think I only sent you one picture, but if you want more, let me know! Thanks Melissa Hoeppner (formerly Parteka) from Traverse City Michigan"
We made a Drops of Pearls jewelry set for Melissa to wear on her wedding day and Pearl Station necklaces for all of the flowergirls in her wedding.
When I emailed her back and told her how adorable the little girls were, she emailed me back and said: "I know, they look soooo cute...like little "cupcakes!" Thanks again for the beautiful, and affordable jewelry! Melissa"

"Got the necklaces.. They're beautiful! Thanks, Carol"
"The wedding was Saturday and so much fun! The bridesmaids loved the necklaces. Thank you so much" C. Barnes, Lofton, OK
Carol is the mother of the bride. She emailed me this picture of the Maid of Honor (who is also her daughter) wearing the Swarovski™ Crystal Pearl Organza necklace we made for the bridesmaids.

"Hi Rhonda, As promised, here is a picture of me on my wedding day (wearing your jewelry). Everyone thought that the necklace and earrings were absolutely perfect. Thank you for getting them to me so quickly. Kind regards, Chantal" C. Doucet, Calgary, Alberta Canada
We made Chantal a 5-strand pearl and crystal illusion necklace and earrings jewelry set. Chantal got married barefoot on the beach in Jamaica!
"Dear Rhonda, Thank you again for the beautiful necklaces you made for my wedding! They were absolutely the PERFECT touch for our calla lily themed wedding. As promised, I have attached several pictures from our wedding for you (including pictures of: Ken and I with all the girls in the wedding, Ken and I with our daughter, just me and the girls, me with my parents, and Ken and I at Taughannock Falls - our favorite waterfall here in Upstate NY where there are several!). We had a wonderful time, and your special touch meant so much! From the bottom of my heart, thank you again! Best regards always, Heather :)" H. Allen, Ithaca, NY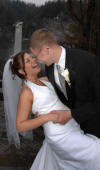 Heather is wearing our special request lariat-style mother of pearl calla lily necklace, bracelet, and earrings jewelry set. Her bridesmaids are wearing matching single-drop calla lily necklaces. Her daughter is wearing a matching calla lily necklace, too.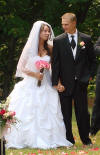 "Rhonda, Nice jewelry !!!! Thanks for everything. The bridesmaids loved theirs, too. Deb" D. Davis, Ithaca, NY (Deb is the mother of the bride)
We made a 5-strand pearl and crystal illusion 3-piece jewelry set for Kati's wedding day. We also made single-strand illusion necklaces for her bridesmaids.

"

Hi Rhonda, Just wanted to say thank you for the beautiful necklace. I wore the organza and pearl choker and it was beautiful…..It was perfect for the occasion- plain and simple but elegant at the same time. I will definitely pass your name along to family and friends...

everyone absolutely loved the necklace...it was gorgeous! Be well, Maddy" M.

DiPietro, Kendall Park, NJ
Maddy is wearing an ivory organza and freshwater pearl necklace on her water-front wedding day.

Laura is wearing our triple-strand pearl and crystal illusion necklace, bracelet and earrings jewelry set. And she writes to us: "Here is a photo from when I had my bridal portrait done, you can see all the jewelry here…and it looks great!" L Edwards, Clute, TX



Dawn is wearing our handcrafted sterling silver five-strand woven freshwater pearl choker necklace, matching bracelet and leverback earrings jewelry set on her wedding day. Here are a couple of notes from her...
"Hi Rhonda! The jewelry got here on Wednesday and it's gorgeous! I am so excited to be wearing it for my wedding! And the fit is perfect...you will definitely get pictures! Once again, thank you so much for all you have done for me."
"Rhonda, Thank you so much for the perfect jewelry. I think you'll agree it looked wonderful! Feel free to use these photos if you'd like, but please cite the photographer (Tony Spielberg). Thanks again! :) Dawn (and Chris)" D. Mundie, Sacramento, CA

"Thanks again for making me such a beautiful set of wedding jewelry Rhonda!! It was such a wonderful day, everything was just perfect!" C. L. Kopcak, Jefferson, MD
We made a custom necklace, bracelet and earrings jewelry set for Carrie to wear on her wedding day.
This is Liz's story, a beautiful bride in Windsor, CT. She contacted me to first make classic-style Swarovski™ Crystal Pearl necklace and earrings jewelry sets for her bridesmaids. This was her response to the jewelry we made...
"Hi Rhonda, I've had my pearls for several days now, I just wanted to let you know that I'm so happy with them. I can't wait for my wedding day, and to give them to the girls! I think I'm a little jealous that they get these beautiful sets! Within the next week or so I need to make a decision about my jewelry, and I'll let you know when I finally do decide. Everything looks so pretty, you make it hard for a bride! I'm really glad I found your site because it has everything I could want on it. Thank you so much for your beautiful work! Have a great day, Liz"
Here is the email from Liz and some pictures she sent me after the wedding...
"Hi Rhonda, It's been a long time, but you made me all the jewelry for my wedding day, and my bridal party! Everyone just LOVED them, so I finally got some pictures back, so I'm sending a few on to you so you can see your work!"
We made a custom necklace, bracelet, earrings and anklet jewelry set for Liz on her wedding day...

"There's me and my new hubby! I didn't get a good picture of the anklet, but there's the beautiful necklace (my favorite part) and the earrings!"
We made Swarovski™ crystal pearl necklace and stud earring jewelry sets for Liz's bridesmaids...

"These are my sisters, who just love their pearls! Heidi (on the left) wears them all the time!"
"I once again want to thank you for your patience and beautiful work! Getting the jewelry was actually the least stressful part of the wedding day, and I owe it to your excellent service. I'll be passing your name along to any girlfriends who are getting married or just looking for some pretty jewelry. You'll probably be hearing from me in the future because I'm jealous of Heidi's necklace! Thanks again, Love, Liz Mancino :)" L. C. Mancino, Windsor, CT
I want you to meet Phil and Tammy who were married in August, 2008...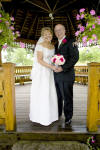 They are in a 1948 Cadillac Fleetwood Limo on their wedding day. I just love the happy looks on their faces!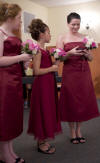 Tammy's Matron-of-Honor is Jill (who set Tammy and Phil up on their first blind date!). Lauren (with red hair) is Tammy's great niece. Bells (younger girl with dark hair) is Phil's great niece.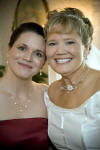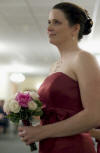 Jill is wearing our handcrafted sterling silver freshwater pearl "drops of pearls" necklace bracelet and earrings.


Lauren and Bella are both wearing our handcrafted sterling silver freshwater pearl "station" necklace, bracelet and earrings.
Here is what Tammy had to say about her jewelry order: "My attendants raved about their 'Jewelry by Rhonda.' My best friend and matron of honor is allergic to nickel, and Rhonda had no problem making her jewelry allergy-free. I'd highly recommend 'Jewelry by Rhonda.' My junior bridesmaids, ages 10 and 11, loved the hand-crafted sterling silver and freshwater pearls. They are eager to be in other weddings now! I feel God led me to Rhonda's Web site. I was tired of looking for jewelry in department stores and finding nothing that grabbed me. Rhonda's jewelry is timeless and beautiful. Thanks for all you did to make our day so special. Didn't the gals look great in your jewelry! Tammy" Tammy and Phil Warren, Crestwood, KY

"Hi Rhonda, Thanks so much for making my lovely necklace and earrings for my wedding, I just loved it and got lots of compliments for it on the day. It really is gorgeous jewellery, and I will definitely make sure I find another occasion to wear it to very soon! Take care, and thanks again, Este" Este Burnett, Auckland, New Zealand
Este and her husband have the most beautiful blue eyes! We made a 10-strand illusion necklace for Este.
Here is Este's website: http://www.funkyfrog.co.nz/

"Rhonda - at long last, I wanted to send you a photo of the wonderful necklace you made for me last summer that I wore for my wedding. It was perfect. Super simple and classy. Thank you again for your help and hope all is well with your business and life. Cheers, Kattie" K. Evans, Beverly Hills, CA
We made special-request organza necklaces for Kattie.