$1.95 - $25.95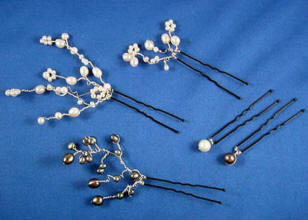 Wedding Hair Ornaments, Hairpins, Hair Sprays
Read About Pearls
Read About Sterling Silver
This is our wedding hair jewelry line. Each piece is hand-crafted and made with genuine cultured freshwater pearls and sterling silver wire. You have your choice of white (natural), black (peacock), or pink/peach pearls.
We can also make these hair ornaments in Swarovski™ Crystals and Swarovski™ Crystal Pearls
Are you looking for a custom pearl color? Email me - I may be able to find it for you.
Special Requests? You bet! Email me with questions, requests, orders, etc.
Single Pearl Hair Pins...$2.95 each
1-2 Hairpins $2.95 each, 3-5 Hairpins $2.75 each, 6-12 Hairpins $2.50 each, 13+ Hairpins $1.95 each






Our single-pearl hairpin is made with one round approx. 7mm potato round freshwater pearl (or Swarovski™ Crystal or Swarovski™ Crystal Pearl).


Hair pins for bridesmaids
To order one Single Hair Pin (item#: RYSHairSingle) $2.95:



Special Request: This bride asked us to make her hair pins to match her wedding jewelry set. We used matching pearls in both hair pin styles to perfectly match the pearls in her jewelry. The 4-pearl hair pin with the single Swarovski™ Crystal Moonlight crystal mimics the beadwork in her wedding gown.
Here is the rest of her hairpin order - she also wanted her bridesmaids to wear hair pins:



...now that is a lot of hair pins!
1" Pearl Spray Hair Ornament...$9.95 each
1-2 Hairpins $9.95 each, 3-5 Hairpins $8.95 each, 6-12 Hairpins $8.50 each, 13+ Hairpins $7.95 each

Our 1" hair ornament vine spray is made with approx. 15 pearls woven into various vines. The pearls are different shapes and sizes and the longest vine is approx. 1" from the hairpin.
To order 1" Pearl Spray Hair Ornament (item#: RYSHair1) $9.95:
Email Us or Call Our Toll-Free 24-Hour Answering Service at 1-210-858-9561
Next Page...