"It is in one's own power to be happy and to be contented"
Queen Victoria was born in 1819 as Alexandria Victoria. She took the throne in 1837, she was just 18 years old. She refused to have her overbearing mother tell her how to run the throne. She took control of her own life and her throne. She soon gained the love and respect of her country. She was intelligent. She was sincere and honest. She had a sense of humor. She loved Pearls and Cameos. She loved Flowers. She loved the arts. She was considerate and tolerant of others - she wanted to hear other people's opinions. She loved animals. People loved her personality and style. She spoke German, being from German descent. When she learned to speak English, she did so with no hint of a German accent. Queen Victoria also learned to speak Italian because she loved opera.




I must admit I am a little of a romantic! I adore the love story between Queen Victoria and Prince Albert. Yes, they were cousins....but that happens in royalty. They fell madly and deeply in love. They had a mutual respect and admiration for each other. They were completely devoted to each other. He was her husband, her friend, her confidant and her top advisor. They had 9 children together.
Albert died from typhoid fever in 1861. Queen Victoria mourned for the rest of her life - wearing black and secluding herself in her castle. She said that she would soon follow her beloved in death, but lived 40 years more! She kept Albert's room in pristine condition - it was maintained just as if her were still alive.
Queen Victoria celebrated her 50 years as queen, her Golden Jubilee, in 1887. She once again embraced the public. She toured England and visited other countries. Her energy and optimism was once again embraced by England. Her Diamond Jubilee was also a grand celebration in 1897. She reigned for 64 years, the longest reign in British history. She died in 1901at the age of 81. She was buried in a white dress and her wedding veil.
The Victorian era is attributed to her personal tastes, state of mind, ethics. She was more in touch with the middle class that preceding monarchy.
Victorians were sentimental people, loving romance and symbolism. During the Victorian era, virtue, modesty and respectability were important attributes of one's character. he Victorians were very concerned with personal enhancement, this is evident in their dress, jewelry, fabrics, home decor, gardening, health/beauty secrets, handwriting, etc. Victorians loved ornamentation - this is evident in their cards, magazines and art.
The Victorian era was one of optimism with exploration, medical research/breakthroughs, invention, industrialization, etc. People worked hard and strived for literacy and higher education, thus the "middle class" was formed. Family values, morals, faith, modesty, proper decorum, etiquette and work ethic were important to Victorians.
Railways allowed Victorians to travel, thus increasing leisure time. They could travel to sea-side resorts, races and sporting events. Parlor games, puzzles, charades and other forms of amusement were enjoyed by all. Crafting, such as needlework, beads, cross stitch were enjoyed by Victoria ladies.
Civic conscience, social responsibility, gender and racial equality were on the rise during the Victorian era. This was true in the United States as well with the legal abolishment of slavery. Also, humanitarian and religious organizations (such as the Salvation Army) reflected the Victorian concern for the poor and needy.
More Resources About Queen Elizabeth:
PBS "Queen Victoria's Empire
Kings and Queens of The United Kingdom
Women's History from About.Com
Queen Victoria: Grandmother of Europe
Queen Victoria: Images of Her World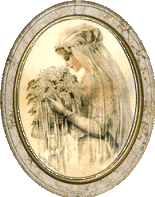 Victorian Weddings...
The white wedding gown started during this period. It became fashionable to copy Queen Victoria's wedding. It was also a display of wealth to purchase a dress you would only wear once. The Victorian bride also favored a long veil. Battenberg lace became very popular during this time. Women's shoes were high button or lace-ups.
Hats and gloves were very important daily wear. Women wore dresses with high colors, but party dresses actually showed cleavage.
Men wore stiff colors, ascots, pocket watches, canes, cuff links and top hats. Men's shoes had spats (decorative shoe covering with buttons).
Some favorite wedding favors during the Victorian era were: Jordan almonds and chocolates shaped like cameos.
During the Victorian era, Cake Pulls (also known as Ribbon Pulls or a Charm Cake) were very popular (cake charms are still very popular today!)
Victorians loved ornamentation, so invitations and cards were beautiful and formal. Invitations were usually engraved and cards were coved with decorations.
The Victorian era was the peek of the English tea fetish. Finger food receptions became popular. Garden tea parties were fashionable. Wedding cakes were sometimes fruit cakes with rolled fondant icing.
Victorian weddings were full of flowers that had special meanings to the bride. Bridesmaids would carry their flowers in silver tussy mussys. When a lady received flowers from a gentleman, there was a message he was conveying.
For more information about the Victorian era:
Victoriana
The Victorian Wedding
Victorian Websites
Victorian Station
Contact Us