Monogram wedding cake toppers available in brushed solid metal and acrylic mirror.
You have your choice of sizes, fonts, crystals, and more!
Made in the USA.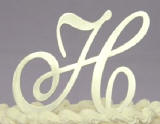 The Solid Metal monogram wedding cake toppers are precision cut and brush-finished to bring out the metallic shine of the metal on both sides of the letter (great for wedding cake toppers that will be viewed from the front and the back).

Solid metal wedding cake toppers also have removable spikes (great for keepsake, display, or storage after your wedding day).
The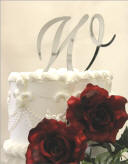 Silver and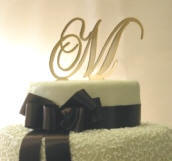 Gold Mirrored Acrylic monogram wedding cake toppers give you the look of metal at a more budget-friendly price.
They are precision cut from acrylic mirror. This acrylic mirror has a silver or gold translucent color in the acrylic to make the reflective surface appear like silver or gold metal. Please note: the acrylic mirror wedding cake toppers have a grey surface on the backside...if the back will be visible, we suggest purchasing a metal wedding cake topper.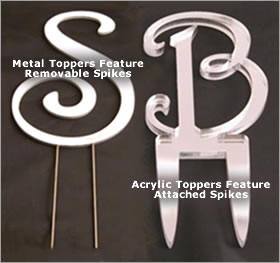 Acrylic wedding cake toppers have attached spikes that can not be removed.
Take a look at what we offer...
Solid Brushed Metal Monogram Wedding Cake Toppers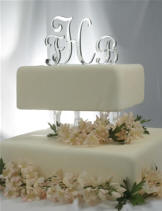 Mirror Acrylic Monogram Wedding Cake Toppers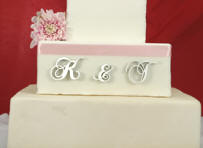 Wedding Cake Jewelry (cake picks that go into the side of your cake)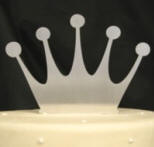 Shape Wedding Cake Toppers (metal or acrylic)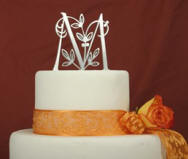 Floral Font Monogram Wedding Cake Toppers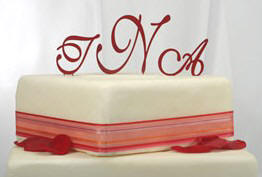 Color Monogram Wedding Cake Toppers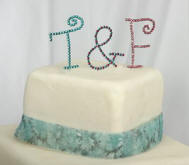 Crystallized (Fully Covered in Swarovski™ Crystals) Wire Monogram Wedding Cake Toppers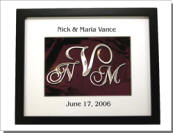 Keepsake and Shadow Boxes For WMI Wedding Cake Toppers
All of our Wedding Cake Toppers and Wedding Cake Jewelry prices include shipping and handling!
Please allow up to 3 weeks to receive your wedding cake topper and wedding cake jewelry (please read more).
Each order for our wedding cake jewelry is a custom order - no returns, no refunds. Please ask questions and request additional information before you place your order.
Contact Us