VDC PRECIOUS METALS™ WEDDING CAKE TOPPERS...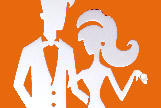 I love these cake toppers! A modern twist on the Bride and Groom wedding cake topper!
Artist designed and hand crafted in the USA! Make a statement of style with VDC Precious Metals™ boldly graphic wedding cake toppers. Each playful metal bride and groom shines in a polished chrome finish and instantly crowns your wedding cake with a unique sculptural artwork cake topper.
Check out this detail...the bride's bling-bling! A clear Swarovski™ crystal is on her hand to represent her diamond engagement ring. Each side of this cake topper (front and back) is polished and has the crystal engagement ring - perfect for a wedding cake that can be viewed from the front and the back.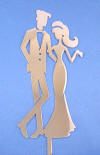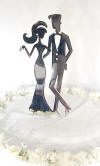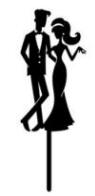 Hip Bride and Groom (7" High x 3-7/16" Wide with 3-1/2" stem)







Dancing Bride and Groom (5" High x 6" Wide with 3-1/2" stem)


Iconic Bride and Groom (6" High x 5" Wide with 2-1/2" stem)


I Do (5" wide x 2-1/8" high with 2" stem)


Mr & Mrs (6" wide x 1-3/4" high with 2" stem)


Just Married (6" wide x 1-1/2" high with 2" stem)
To order Any VDC Precious Metals™ Wedding Cake Topper...
The manufacturer sells this cake topper for $90
Our internet price $80 - save 10% and don't forget, our price includes shipping and handling!
item#: VDCPM
All of our Wedding Cake Toppers and Wedding Cake Jewelry prices include shipping and handling!
Please allow up to 3 weeks to receive your wedding cake topper and wedding cake jewelry (please read more).
Each order for our wedding cake jewelry is a custom order - no returns, no refunds. Please ask questions and request additional information before you place your order.
Contact Us
Home | Contact Us | Wedding Jewelry | Cake Charms | Cake Toppers | Wedding Bands | Search | Shopping Cart
Copyright 2010 Jewelry by Rhonda. All Rights Reserved. Date of Last Update: Thursday, October 13, 2011
Designed BY: KDM - Submit Your Site; Hosting & Marketing BY: EMS - Submit Website Link