HANDCRAFTED "ANTIQUE" FRESHWATER PEARL JEWELRY...
$89.95 - $184.95
Read About Pearls
Read About Sterling Silver

I adore these pearls! They remind me of pearls I have seen in museums when very old antique pieces (such as crown jewelry from royal families) are on display - back in the long-gone days of "natural" pearls. These genuine cultured freshwater pearls are creamy with golden undertones, they are baroque-shaped - lots of texture and interest. They are large 11mm pearls, varying shapes, lots of rings, beautiful luster, very natural-looking. These are very dramatic pieces - each one is hand-knotted on pure silk. Always a classic!
You can select your pearl necklace from any of the traditional pearl necklace lengths: Choker 14-16", Princess 17-19", Matinee 20-24", Opera 28-34", or Rope 45"+. The Choker, Princess, and Matinee necklaces all come with a clasp. This is the fun part...you get to select your clasp! You let me know what you like and we work from there.
The Opera and Rope necklaces come with no clasp. If you want a clasp, I will be happy to discuss clasp options with you (from simple to extravagant...you get to decide!) - just email me.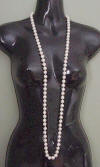 45" Pearl Rope Necklace (no clasp)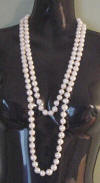 60" Pearl Rope Necklace (no clasp) - can be worn so many different ways!
The Choker 14-16" Necklace is $89.95
The Princess 17-19" Necklace is $99.95
The Matinee 20-24" Necklace is $119.95
The Opera 28-34" Necklace is $134.95 with no clasp
A 45" Rope Necklace is $184.95 (add $5 per inch for additional length) with no clasp
Email me or call me at 1-210-858-9561 with questions, requests, orders, etc.
Home | Contact Us | Wedding Jewelry | Cake Charms | Cake Toppers | Wedding Bands | Search | Shopping Cart
Copyright 2010 Jewelry by Rhonda. All Rights Reserved. Date of Last Update: Tuesday, June 07, 2011
Designed BY: KDM - Submit Your Site; Hosting & Marketing BY: EMS - Submit Website Link