The mother of the bride (Patsy) sent me these pictures of her daughter's (Kelsey) bridesmaids' luncheon charm cake. This cake was made by Delectable Edibles in Dothan, AL. The ivory ribbons are charms (the bride) and her flowergirls. The black ribbons are the charms for her bridesmaids to pull. Patsy (pictured on the far right holding one of the flowergirls) tells me "the cake was yummy too and the girls really had fun with it!!!".
P. Luckie, Dothan, AL
How special is this groom? His name is Paul from Portland, Oregon. He called me and said he really wanted to get his fiancée a special wedding gift...he wanted to order a second set of charms exactly like the charms they had previously ordered for their wedding reception ribbon pull. He and his fiancée had selected the charms together. He wanted to make her a charm bracelet using the same charms. I decided to make her second personalized card wishes from him to her for their life together. For example, one of the charms was a Magic/Genie's Lamp which usually means 'You Will Have a Life of Magic'. For her card (wishes to her from him), the meaning was 'We Will Have a Life of Magic Together'.

Pictured here is a cake charm order that has the sterling silver charms for the bridesmaid's charm cake on white satin ribbons and a matching charm bracelet for the bride. The bridesmaid's luncheon hostesses wanted to give the bride a gift of a sterling silver charm bracelet with the same charms and wishes as the charms for the bridesmaid's cake pull.
Here is an idea from a Maid of Honor in Santa Monica, CA - incorporate the Single Lady Charms into the Bride's Bachelorette Party!
The following thank you card and pictures are from Dara Coslett, a bride in Gouldsboro, PA. Dara used the cake charms at her Bridesmaid's Luncheon with a scrumptious-looking Strawberry and Cream Cake:


"Dear Rhonda, Thank you for your help with the beautiful cake charms. My bridal attendants were pleasantly surprised - as some were unfamiliar with the tradition. The charms truly added to a memorable day! I've enclosed a picture of the cake. Sincerely, Dara"
Here is an email note and picture from Jennifer Feller, a bride in Baton Rouge, LA. Jennifer used the cake charms during her wedding reception (a long standing Louisiana wedding tradition). By the way...Jennifer reports the cake was as tasty as it is beautiful:
Hi Rhonda, Here is a picture of my wedding cake with the cake pulls you made for it. My bridesmaids loved them and were pleasantly surprised by the unique tradition. Thanks again. Please put a courtesy underneath the photo for Gary Thibodeaux Photography since it is one of the professional pictures. Thanks, Jennifer"
How thoughtful in this guy? He had the sister of his girlfriend help him coordinate a dinner with friends and family. The cake for dessert had charms for his girlfriend to pull. Each charm was a statement from him to her about the life they would share together. The very last charm was the Engagement Ring Charm, which he used as the "forerunner" to the real diamond ring and engagement proposal he made to her that night.

Here is a luncheon/brunch/tea/shower, etc. idea from Emily, a bride in New York City. Her favorite bakery (Magnolia Bakery in the West Village) is know for their homemade cupcakes. She is going to have cupcakes for her bridesmaids at her bridesmaid's luncheon. Each girl's individual cupcake will contain the charm.

Pink cupcake with charm on pink ribbon
How sweet is this? A mother with a daughter in the 6th grade ordered charms for her daughter's 6th grade teacher. The girls in the class are very fond of their teacher and want to surprise her with a little party to celebrate the teacher's new engagement. The girls want to give her a charm cake with very sweet wishes from them to the teacher for her new married life. This sweet mother volunteered to bake the charm cake for the girls.




Here is a unique idea from one bride she used at their Rehearsal Dinner - the cake is a treasure chest that looks like it came from the bottom of the ocean (notice the sea shells and sea glass). We used gold and silver ribbons on the cake charms. She said the idea was that everyone got a little treasure with their cake.
Here is an idea from a hostess of a Wedding Prayer Shower (they used my Christian Wedding Charms to represent blessings/prayers/encouragements, etc. for the bridal couple) in Georgia. The ladies hosting the shower were part of a regular-meeting prayer group and wanted the shower to involve prayer for the couple. They wanted a unique way to use the charms without putting them in the cake; so, here is what they came up with...the charms, on the ribbons, were put inside of a Bible (at each scripture passage represented) to be handed around at the shower. Each person pulled the charm, read the scripture passage and gave the charm to the bride. This was each person's prayer/encouragement, etc. to the bride. After the shower, the charms were placed on a charm bracelet for the bride to keep. How special!
The following picture and note is from a baby shower hostess. She used pastel green ribbons and placed the baby shower charms under the cake. The charms were pulled and presented to the mother-to-be:

"Rhonda, Hello! I'm finally getting around to sending you the pictures I promised! Sorry it took so long! Amy loves her bracelet! Her due date is only 7 days away - can't wait! Thank you again for everything!"
By the way...for the baby shower, she decorated the room with baby clothes hanging around (so cute!)

Ring in a New Year! A lady told me that each year on New Year's Eve, her family tradition is to have a charm cake. Each charm represents the family member's fortune for the new year. She says everyone in her family looks forward to this each New Year's Eve.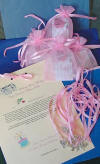 Here is a great Birthday Party Idea:
A mother had a "Best Friends" themed birthday party for her 13-year old daughter. She gave her daughter and her 5 closest friends charm bracelets as party favors. She selected great charms for the birthday cake pull (like the hand mirror, high heel, etc.) and also gave each girl a Best Friends charm. As each girl participates in the cake pull, they receive two charms on each ribbon for their new charm bracelet - a party favor to remember for many years to come.
Here is a beautiful and meaningful idea for a Christian bride:
This mother-of-the-bride (Carol - a beautiful lady inside and out) had a bride's bible to give her daughter (Jennifer - a gorgeous girl) and she had all the bridesmaids and other special women in her daughter's life select a charm from the traditional and Christian charms. Each lady selected a memory about or a wish for the bride. They also selected a bible verse for the bride. Each lady's bible verse was marked in the new bride's bible for Jennifer by the charm on a pastel blue ribbon. At the bridesmaid's brunch, each lady read their selected bible verse and presented the charm to Jennifer. How special!
Here is the email and pictures from Carol:
Rhonda,...She LOVED the charms and it made the Bridesmaid Brunch SO special! EVERYONE cried, especially when it was their turn to present their charm to Jennifer and tell the meaning to her; Jennifer cried at every presentation. She loved her new Bride's Bible, too, with her name engraved on it and the charms (on the blue ribbons) in the Bible. It was just so special; a way for the girls to express their feelings to her. I'm attaching a few pictures like you wanted. Let me know if you got them.
Thanks again so much, Rhonda, for making the Bridesmaid Brunch so special! None of us will ever forget what a special morning it was, the day before her wedding day that she's always dreamed about, and we thank you so much for your part in making it so special. It was truly a highlight that everyone will talk about for years! Jennifer can't wait to wear the bracelet and remember the Bridesmaid Brunch and how special the charms are and the friends and family that gave them to her.
Thanks to your website, I found you! You are just so special! You were so easy to work with, so warm, Southern, and compassionate – the kind of people I like to deal with! You should move to Destin and I'd work for you! I love your product and feel it would be a big hit! Everyone I tell about it, they tear up just when I tell them about how we gave charms to Jennifer, the meanings, etc. I love how you type it all up for her scrapbook and it's so pretty! The colored ribbons on the charms add that special touch! You had SO many charms to choose from on the website and it was so easy to go through in alphabetical order and pick a charm, and they were such a reasonable price for sterling! I can't thank you enough!! Thanks again SO much!!!! It has been such a PLEASURE to work with you!! God bless your family! Love, Carol"





These are pictures from Jennifer's (the bride) bridesmaid's brunch. Her charms were presented to her with a bride's bible and made into a bride's charm bracelet. Carol (mother of the bride) and Jenny (matron of honor) are also pictured. What a blessed family!
Here is her bride's charm bracelet (4mm sterling silver rolo charm bracelet):

C. Wise, Niceville FL

Bridesmaid's Charm Cake with pink and white ribbons flowing around the cake from under the cake.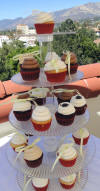 Do you love cupcakes? Take a look at these gorgeous cupcakes from CrushCakes Cupcakery in Santa Barbara, CA. Maura, the hostess of this bridesmaid's luncheon tells me the cupcakes taste as delicious as they look! She hosted a bridesmaid's luncheon in California...she lives in Texas and the bride had her bridesmaids coming in from New Jersey and Connecticut. Wow! That is a lot to coordinate!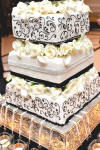 This New Orleans wedding cake has all Fleur-de-Leis charms for the cake pulls.
Email Us or Call our 24-Hour Answering Service at 1-210-858-9561